Lowe's Donation to Building Trades
Recently the Goshen High School Building Trades instructor, Adam Young, was contacted by Mike Bowling, assistant manager at Lowe's in Goshen as part of the Lowe's Hero Project. Mr. Bowling asked if GHS would have any needs for the Building Trades classes that Lowe's could help with, to be able to provide tools or equipment for students to use.
After speaking with Mr. Young, Lowe's donated two 8' fiberglass step ladders, two 24' aluminum extension ladders, a ½" drill, two impact drivers, screwdriver sets, chalk lines, wire strippers, and utility knife blades. In all, the value of what Lowe's donated was probably worth between $1500-2000!
Mr. Young (and GCS) would like to thank Lowe's of Goshen for providing the Building Trades class with the new tools and equipment. Their generosity is very much appreciated!
Below is a picture of one of the Building Trades classes, showing some of the tools and a couple of the ladders.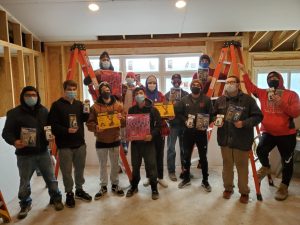 THANK YOU, Lowe's!! We appreciate your partnership with Goshen High School. Your generous donation has contributed to the opportunities that our students have to learn skills they can use for a lifetime.