December 7th Board Recognitions
Board Recognition: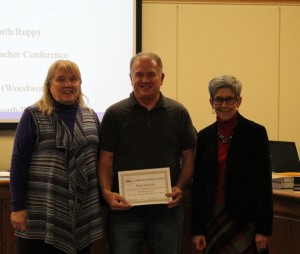 Mrs. Ummel introduced Dale Schrock, who often serves as an event supervisor for GHS athletics. Mr. Schrock was honored for the calm, professional handling of a stressful situation, the loss of field lights, during a big NLC varsity girls' soccer game versus Concord.
Also honored by the board were teachers Andrew Kauffman and Jim Alber, who were the recipients of the VOYA Unsung Heroes award, in the amount of $2,000. Mrs. Ummel read from the VOYA news release that stated VOYA "awards grants to K-12 educators nationwide to honor their innovative teaching methods, creative educational projects, and their ability to positively influence the children they teach".