GHS ANNOUNCEMENTS FOR THURSDAY, DECEMBER 1, 2016
GHS ANNOUNCEMENTS FOR THURSDAY, DECEMBER 1, 2016
ANNOUNCEMENTS:
Musical callbacks will begin TODAY promptly at 3:45 p.m. in the auditorium.  The callback list will be posted on the auditorium doors at lunch time.  All those who are called back need to be present to gain a role.  Please be prepared to remain at callbacks until we are finished with the process.  Bring a pen to complete audition forms.
If you are a current sophomore or junior and are interested in travel, there will be an informational meeting for you and your parents about the next Europe Art Trip, 2018 where we will visit both Italy and Spain.  We will meet on Tuesday, December 6th at 7:00 p.m. in room 1010 (across from the cafeteria).  Please see Mr. Zuber for details.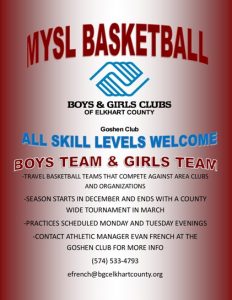 REMINDER:  If you are ECA testing next week, please make sure that you bring your computers and make sure that they are charged.
Students should take a look at their 2nd semester schedules in Skyward, within the next two weeks.  Please do this as soon as possible.  If there is a missing period in your schedule or a class you are no longer taking please fill out the "Schedule Issue" form and return it to guidance.  You can get these form from teachers, your SRT teacher or the guidance office.  Please do this by December 9th.  Guidance will not make student request changes when we return in January, only teacher change requests.  Your schedule must be changed before you leave for Christmas break. We are trying to eliminate starting the 2nd semester with a lot of changes.  We know there will be some changes if you fail a class, or a teacher makes a recommendation for a change in placement.  Don't wait until the last minute, the class you want may be full!
IHSAA Student-Athlete Tip of the Week:  Do you set goals for yourself in the classroom and in your sport?  Do you follow through at the end of your grading period and the conclusion of your sport's season and grade your results?  For the student who may be struggling, or the athlete that is going through a slump, have you ever thought of setting short term goals?  Short term goals are easier to track and they can supply instant gratification and encouragement if you achieve them.  If you are having a tough challenge or not achieving the playing time and results you desire, think about setting short term goals that challenge you in the short term.  Whether it's to work harder, make your teammates better or just impressing your coach, do the things necessary to separate yourself from the others on your team!
Any student interested in competing in this year's National Shakespeare Competition should see Mr. Garvin in room 2220 prior to finals week.  Get the information so you have time to practice over break!
The guidance office has received the Knights of Pythias Scholarship and the AXA Achievement Scholarship.  Stop in for more information.
The INSPIRE Scholarship is available on-line through the Community Foundation of Elkhart County.  INSPIRE will award a $3,000 per year renewable scholarship to students attending a 2-year or 4-year degree program, but you MUST meet the criteria for applying (GPA between 2.0 and 3.75 ONLY, leadership skills,  are service minded, and have career goals.  You must also have been a resident of Elkhart County for a minimum of four years).  Go to InspiringGood.org to PRINT OUT the application packet which must be submitted to your Guidance Counselor no later than TODAY.  Please note that 2 Evaluations from adults are required!
If you missed the Marine Biology meeting and are interested in the trip, see one of the Weavers in room 3050 to pick up an application.  Don't delay!  There is a large interest in this year's trip.  If you want to be considered, pick up your application form and return it as soon as possible!
Ski Club:  Don't forget that forms and money are due by Friday, December 16th.  Also, if you are interested in ordering ski club apparel, see Mrs. Clark for an order form.  Apparel orders are also due December 16th.
| | | | |
| --- | --- | --- | --- |
| Date | Time | Boys Basketball Game | Theme |
| 15-Dec | 7:30 | at Northridge | Holiday/Ugly Sweater |
| 22-Dec | 6:00 | Holiday Tourney | Prep Night |
| 23-Dec | 6:00 | Holiday Tourney | Cops & Robbers (no look-alike weapons) |
| 6-Jan | 7:45 | vs. Concord | Wrong Sports Night |
| 13-Jan | 7:45 | vs. Warsaw | Geek Night |
| 17-Jan | 7:30 | vs. Jimtown | Hip Hop Night |
| 27-Jan | 7:45 | vs. Elkhart Memorial | White Out |
| 28-Jan | 7:45 | vs. Penn | Jersey Night |
| 10-Feb | 7:30 | vs. Wawasee | Pajama Night |
| 21-Feb | 7:30 | vs. West Noble | 80's |
| 24-Feb | 7:45 | vs. Manchester | Black Out (Senior) |
| | | | |
| --- | --- | --- | --- |
| Date | Time | Girls Basketball Game | Theme |
| 3-Dec | 7:45 | vs. Plymouth | Super Hero Night |
| 6-Dec | 7:30 | vs. West Noble | Tie Dye Night |
| 16-Dec | 7:30 | vs. Northridge | Food Night |
| 31-Dec | 10:30 | Holiday Tournament | Christmas |
| 31-Dec | 2:00 | Holiday Tournament | Christmas |
| 20-Jan | 7:45 | vs. Jimtown | Patriotic Night |
| 21-Jan | 7:30 | vs. Northwood | Neon Night |
| 27-Jan | 6:15 | vs. Elkhart Memorial | Black Out (Senior) |
Homework help is available every Tuesday and Thursday in the media center from 3:45-5:00 p.m.  A bus will be available around 5:10 p.m. if you need a ride home.  It will pick you up at the south end of circle drive by the flag pole.  This is a great opportunity if you just need a little extra time or even just a quiet place to do your homework at the end of the day.
Please stop by the commons area (either by the cafeteria or outside the main office) during lunch if you are interested is speaking to the following:
12/5 All Star Driver Education
12/5 Lippert Components
3/15 Aces Exchange Student Program
The Ultimate Frisbee Club meets after school on Tuesdays and Thursdays from 3:45-5:00 p.m. on the administration field.  If you're interested in learning how to play the sport of Ultimate Frisbee, you can pick up your required paperwork from Mr. Snyder in the choir office, Mr. Brubaker, Lucas Kauffman, or Mrs. Stealy in the main office.  The paperwork should be turned in to Lucas Kauffman the first time you attend.
MEETINGS DURING SRT:
Key Club will meet in the cafeteria TODAY during the 2nd session of SRT.
SPORTS SCORES:
IN SPORTS ACTION TODAY:
The boys and girls JV and varsity swim/dive teams will host Plymouth and Northridge at 5:30 p.m.
Both the boys and girls freshman basketball teams will host Plymouth at 7:00 p.m.
Good luck to all of you!