Little Big Ideas Grant Opportunity
Teachers, students, families, and clubs: Please take note of this grant opportunity!
We've got exciting news — the Little BIG Idea Grant is back for another year!
We're giving out micro-grants of up to $1,000. The catch is: It's got to be FUN!
In the last year, we had so many amazing projects. The Middlebury Pumpkin Race was all sorts of cool. Goshen Youth Arts' Faces project showed off the talents of incredible young artists. Concord High School students went above and beyond to lift everyone's spirits with the Heroes of Hope project.
Can you re-create this kind of scene in your community?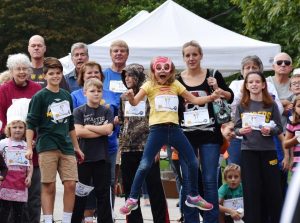 We want to see every fun, quirky, creative, zany, goofy, hilarious, gut-busting, heartwarming, momentous, energizing, powerful idea you have.
You can apply anytime, and it's super easy! Click here for the online application.
We can't wait to see what you have in store!
The Little BIG Idea Grant Committee
P.S. Huge, huge thanks to the Elkhart County Convention & Visitors Bureau and the Community Foundation of Elkhart County for backing this project!