IHSAA Exemplary Sportsmanship Report
The following information is from an IHSAA Exemplary Sportsmanship Report by Plymouth tennis coach Brad Haeck:
Our player, Mitch Rose (Plymouth), and the opposing player, Ryan Harmelink (Goshen) were in a #1Singles battle in the third set, that would ultimately decide a 3-2 match (that Goshen would end up winning). Mitch began to cramp at 1-1 in the third set. Both Ryan, and his coach Daniel Love, expressed concern for Mitch when he started cramping, and gave him extra time to originally address the issue when it happened, and to later receive treatment for it. Their patience and compassion were much appreciated.
Thank you to Coach Love and Athletic Director Larry Kissinger for teaching our GHS athletes good sportsmanship. And thank you to Ryan Harmelink for being a great student athlete and an outstanding representative for Goshen Community Schools.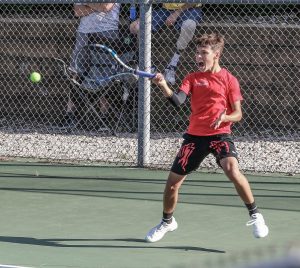 Ryan Harmelink