Goshen Bus Drives a Daily Route, in Guatemala!
The picture below was shared with Goshen Community Schools by Bruce Wright, a retired middle school teacher who worked for the Evansville-Vanderburgh School Corporation: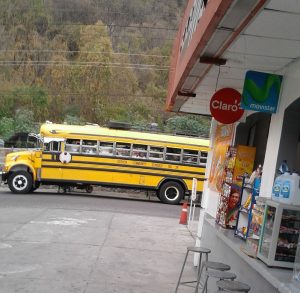 He was on a mission trip to Panajachel, Guatemala and saw the bus go rolling by!  Goshen's once-owned bus is now part of a public transportation route throughout the city.  According to Bruce, the guide said that when used school buses are purchased from U.S. school corporations, they often make their journey through Mexico loaded with passengers and freight to their final destination.
When our GHS students graduate, many continue their educations or accept positions throughout this country or across the globe. And now we know that some of our former "things" are apparently also finding their way to distant destinations!