GHS Senior Signs With @AnconConstruction
This morning GHS senior Joseph Rodes spent time watching Ancon Construction Safety videos. At noon, he signed a contract to work for Ancon Construction, and he will begin his new job tomorrow morning at 6:00 a.m. He will participate in the GHS graduation ceremony on Sunday as an Honor student, and then return to work on Monday.
There will be no summer "down time" for this graduate, but neither will there be any student loans or large debts. Joseph is heading right into his chosen field as a sought-after employee. Ancon Construction President, John Place, came to GHS today to offer Joseph a job with a decent wage and good benefits. Mr. Place first met Joseph at a Career Fair held at GHS this spring and knew that he would be a good fit for Ancon.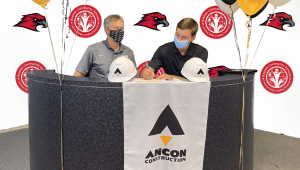 Ancon Construction, who is 100% employee-owned, states this on their website: At Ancon, our people are our most important asset. We are looking for the best of the best to work on a wide range of construction projects. As a construction professional, we want to help you grow in our industry and be a part of a team that is transforming communities throughout our region. Are you ready to take the next step in your career?
Some of the great benefits include, employee stock ownership plan (ESOP), medical and dental insurance, flexible spending account, term life, 401K with company match, 7 paid holidays, paid vacation time, and bonuses.
As with any successful student who achieves their goals, GCS celebrates with Joseph and his parents, Julia and Owen Rodes. He has taken the classes that were of interest to him and prepared himself well during his time at Goshen High School. Both of his Construction teachers, Adam Young and Nathan Kingsley, say that Joseph is ready to do the work that will be required of him.
According to Jen Yoder, one of Joseph's Engineering teachers, "landing a job at Ancon Construction right out of high school is not easy, but Joseph is a good student, and he has taken a lot of relevant courses that will help him in his job. I can definitely see him as a team leader someday." Joseph took all the construction courses offered at GHS, along with Civil Engineering and Architecture and Engineering Design and Development classes at GHS, and Diesel Mechanics at the Elkhart Area Career Center.
Congratulations to you, Joseph, you have earned this great opportunity! And congratulations to Ancon Construction too, you are getting an outstanding student who will quickly transition into a great employee.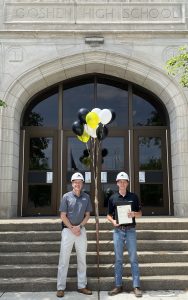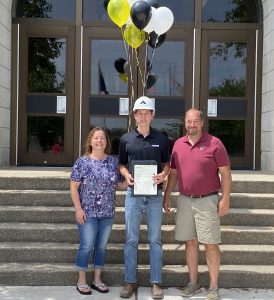 @AnconConstruction
@anconconst