GHS senior earns academic achievement award, taking steps to be leading chef
When Jonathan Santiago Jimenez graduates from Goshen High School this spring, he'll be well on his way to one day owning his own restaurant.
Jimenez is finishing up his work in the Elkhart Area Career Center's culinary arts program, where's he earned dual credit through his two years in the program. He plans to attend Ivy Tech Community College in South Bend next fall to earn his Associate's Degree. He'll also graduate with a High Schools That Work (HSTW) Award of Educational Achievement from the Southern Regional Education Board (SREB) for completing a challenging program of study and demonstrating readiness for employment and for college.
Jimenez said he's always been interested in culinary arts and always knew he wanted to grow up to become a chef.
"It's something everybody can relate to. Everybody has to eat and if you can make it taste good and look good, that's really great," he said.
Along with the High Schools That Work award, Jimenez was one of the top 10 students in the Skills USA State Leadership and Skills Conference culinary arts contest in Indianapolis earlier this month. He entered that competition with his classmates through the Career Center, but also pursued on his own entrance to a Chopped Scholarship Competition, sponsored and organized by the Food Network TV show. Through the contest, regional winners competed against each other for a $40,000 scholarship to culinary school. Jimenez was the runner-up at the regional held at the Art Institute of Chicago just a week after his contest in Indianapolis.
Margarita McClain, a culinary arts instructor at the Elkhart Area Career Center, said that Jimenez has a natural talent. She is impressed by his drive to pursue his dream of becoming a chef.
"He's definitely got a passion for it and is going for it," she said.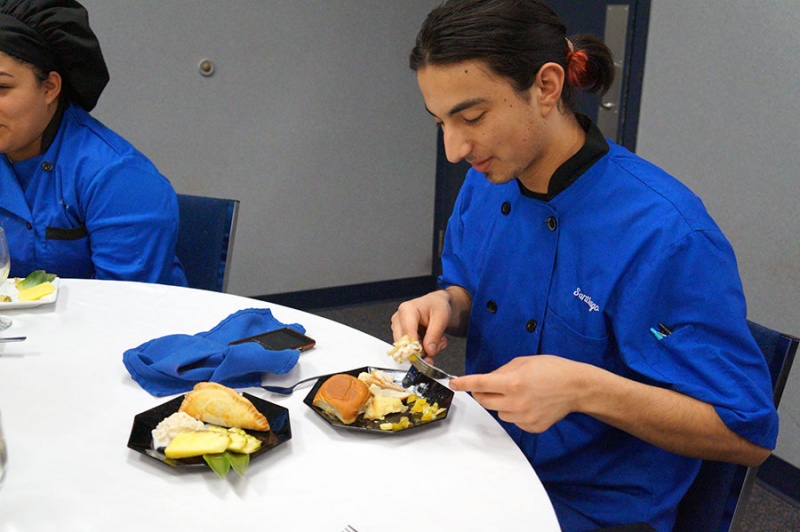 As a final project at the Career Center's culinary arts program, Jimenez created a meal fusing Bolivian and Hawaiian flavors. The menu included a chicken salad with pineapple, Hawaiian rolls with a pineapple glaze, Bolivian salteñas (a meat, potato and pea mixture in a flaky pastry) and rice pudding.
Along with wanting to become a chef, he would also like to be on the culinary skills show that he's watched since he was a little boy, Iron Chef. He noted, though, that he'd love the challenge of being on any culinary TV competition.
Jimenez and other High Schools That Work award recipients at the Career Center will be honored at an event in May. William Kovach, Elkhart Area Career Center director, will present the awards at the end of the year awards banquet on May 8, 2014, at 7:00 p.m. at Elkhart Memorial High School.
"These students are to be commended for their efforts," said Kovach in a written statement. "They have taken challenging courses in high school and scored high on rigorous exams and by doing so; they have increased their likelihood of success in the workplace and further education."