On Monday evening, the Goshen High School athletic department recognized student athletes during their Fall Athletic Awards Program.
The student athletes pictured below were presented the MVP Awards for their respective sports: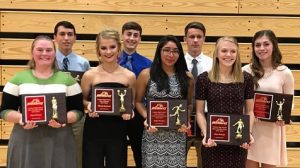 In front (from left) Olivia Thomas, Golf; Mikayla Burkhead, Cheer; Yadira Sanchez, Cross Country; Jillian Kissinger, Girls Soccer; and Raina Shreiner Barger, Volleyball.
In back (from left) Felix Perez Diener, Cross Country; Wes Beck, Tennis and Lucas Bontreger, Boys Soccer.
Congratulations to these student athletes, and all fall athletes, on a great season of GHS athletics!