GHS ANNOUNCEMENTS FOR TUESDAY, JANUARY 19, 2016
GHS ANNOUNCEMENTS FOR TUESDAY, JANUARY 19, 2016
ANNOUNCEMENTS:
Tomorrow is Honey's Give Back Day! Please visit Honey's and enjoy something sweet anytime that day, and 20% of what you spend will be donated to GHS. Coupons will be available in the main office and guidance.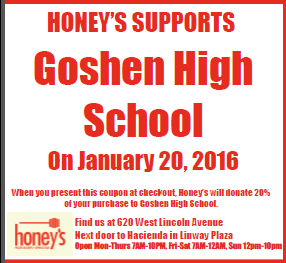 Attention Seniors: GHS will be hosting a financial aid meeting in the auditorium on January 25th at 7:00 p.m.
REMINDER: The Snowball dance will be held on Saturday from 8:30-10:30 p.m. in Whiteman Gym. Tickets will be sold this week in the commons during lunch. The cost is $6, or $5 with an activity ID.
The guidance office has just received the Elnora Stickley Music Scholarship.  The deadline for submission is Friday. Stop in and get an application ASAP.
The North Central Co-op Scholarship is now available in the guidance office for seniors pursuing a career in agriculture.  Pick up an application to view the outline of requirements.
Registration forms are now available for soccer intramurals! Stop by the athletic office to pick up a team or individual sign-up sheet. The cost is $8 and forms are due by Friday to the athletic office. If you played volleyball intramurals, there is no cost (unless you want a new shirt, then the cost is $5.00). See Mrs. West or email kwest@goshenschools.org for more information or questions.
Super Mileage Club will meet on the following dates: February 9th and 23rd & March 8th and 22nd. Times are 7-8:15 a.m., and/or 3:45-5:30 p.m.
The GHS Student Athletic Council wants to encourage all GHS students to attend fan appreciation nights for varsity winter sports.  At each of these events, those GHS students present during the contest will receive two free slices of pizza for their support.  Here are the dates for winter fan appreciation nights coming up:
Swimming/Diving – Tuesday, January 19th (after diving and at the NEW GMS POOL!)
Are you interested in finding out more about the opportunities at the Elkhart Area Career Center?  They will be here on Thursday to explain the programs they have and answer your questions during the 1st session of SRT in the auditorium.  Not sure what programs they have?  Check out the Bulletin of courses on line for a listing of the classes.  Many news classes have been added, including Veterinary Tech and Crime Scene Investigation.  All sophomores and juniors are welcome to attend.
Boys basketball theme nights:
Friday, January 22nd          USA/Patriotic
Monday, February 1st         Fake Out (blue to red)
Thursday, February 4th       Disney
Tuesday, February 9th         80's
Friday, February 19th          Jersey
Saturday, February 20th      Zombie
MEETINGS DURING SRT:
If you are interested in helping to plan prom please join us during the 2nd session of SRT TODAY. We will meet right outside the main office by the steps.
The boys track callout meeting will take place on Tuesday, January 26th during the 2nd session of SRT in the main gym.  Those interested should attend or see Coach Clark in room 1100 if you have any questions.
There is a MANDATORY meeting for all girls track & field athletes on Tuesday, January 26th during the 2nd session of SRT in Whiteman Gym.  If you cannot be there, please contact Coach Smeltzer.
There will be a final callout meeting for all girls playing tennis this spring on Tuesday, January 26th during the 2nd session of SRT in Whiteman Gym. Please make every effort to be there!
SPORTS SCORES:
The JV boys basketball team won at Warsaw on Friday night by a score of 32-28. Michael Pinarski led the RedHawks with 13 points and Lucas Bontreger added six.
The varsity boys basketball team lost at Warsaw on Friday night by a score of 55-41. Brady Bechtel led the RedHawks with 12 points while Colton Potter added six.
Goshen finished an impressive 6th place at the NLC Championships. At prelims on Thursday night, Goshen swam 24 individual events, recording 13 career best times, and advancing 16 events into finals. At the conference finals meet, Goshen posted impressive finishes in the 200 Medley Relay (Emma Hussey, Makala Saeger, Jenea Born, Ellie Zehr) 4th place, 200 Freestyle Emma Hussey 5th and Abby Hetler 15th, 200 Individual Medley Makala Saeger 9th, Anna Paetkau 10th, and Molly Hetcalfe 15th, 50 Freestyle Karla Hernadez-Walton 16th, Diving Karla Hernandez-Walton 10th, 100 Butterfly Jenea Born 5th, Anna Paetkau 9th, Syreeta Moore 16th, 100 Freestyle Abby Hetler 10th, 500 Freestyle Emma Hussey 4th, Ellie Zehr 11th, 200 Freestyle Relay (Jenea Born, Ellie Zehr, Anna Paetkau, Abby Hetler) 5th, 100 Back Stroke Jenea Born 9th, Ellie Zehr 16th, 100 Breast Stroke Makala Saeger 6th, Monse Ramos 16th, 400 Freestyle Relay 6th (Abby Hetler, Makala Saeger, Anna Paetkau, Emma Hussey). At Finals Goshen had 12 career best times. In total Goshen had 25 career best times!
The JV Lady RedHawks lost to conference foe Warsaw Saturday night, 37-24. Freshman Josie Walters led the team in scoring with 12 points, rebounds with seven, assists with two and steals with four. Junior Nyla Dean added eight points for the RedHawks.
The varsity Lady RedHawks battled in a tough conference matchup Saturday night, losing to Warsaw 37-33. The RedHawks fell behind 13-6 at halftime in a defensive battle, then came out and took the lead at the end of the third quarter. They were not able to hang on to their lead however. The RedHawks were led in scoring by junior Aylissa Trosper with 15 points, nine of them from behind the three point line. Senior Olivia Love led the team in rebounds with seven.
IN SPORTS ACTION TODAY:
The boys freshman basketball team will play at East Noble at 6:00 p.m.
The girls JV and varsity basketball teams will host Mishawaka. JV plays at 6:00 p.m., followed by varsity at 7:30 p.m.
The boys/girls JV and varsity swim/dive teams will host East Noble, Westview and New Prairie at GMS starting at 6:00 p.m.
The boys JV and varsity basketball teams will play at Jimtown. JV plays at 6:00 p.m., followed by varsity at 7:30 p.m.
Good luck to all of you!