Dr. Woodworth Named District II Superintendent of the Year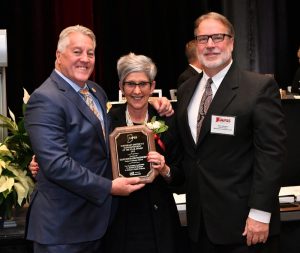 Dr. J.T. Coopman, Dr. Diane Woodworth, and Dr. Tom Edington
At the recent Indiana Association of Public School Superintendents (IAPSS) annual meeting, Superintendents of the Year were announced for each of the eight IAPSS districts. Goshen Community schools is a member of District II, along with 36 other school districts in Northern Indiana. Out of all the quality school superintendents and school corporations represented in District II, Goshen's superintendent Dr. Diane Woodworth was chosen by her peers as the IAPSS District II Superintendent of the Year. Dr. Woodworth was selected, in part, for her direction and leadership of the Goshen school corporation. Congratulations, Dr. Woodworth!

The IAPSS was established in 1960, based upon this premise: The public interest is best served through assuring the availability of a quality education for all children; and knowledgeable, ethical, effective leaders are essential to achieving this educational excellence.
IAPSS is a non-profit, professional association serving 425 members, including superintendents and other school administrators, professors of education, university students studying educational administration, and retired superintendents.  Professional development activities are targeted at improving the educational process, promoting the efficient operation of schools, and developing new superintendents. Association meetings provide a forum for discussion of a variety of educational issues between members and state and national experts.