Boys Soccer: Headed to Regionals
Coach Viratham Mounsithiraj (Coach V to those who know him well) has been around a while. He's been the boys soccer head coach at Goshen High School for 14 years, accruing a career record of 168-64-28. Included in that total, he has a final four appearance from when soccer was still a single-class sport (2009), and one state title (2014). Coach V's staff has also been pretty consistent, with Myron Bontreger (GHS Spanish teacher) and Matt Bjorkland (GHS math teacher) both on the staff for the past 10 years, and Rusty Maust Emery (a former GHS soccer player and current GHS math teacher) for 2 years. The RedHawks are 15-3 so far on the season; they are Northern Lakes Conference champions and sectional champions. They are healthy and playing well together, and they are looking to extend their season.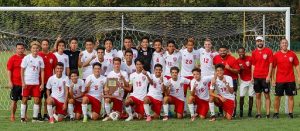 Sectional Champs!
Of the 2014 state champion team, two players remain. They were JV players in 2014, brought up to varsity for the tournament run. They are Alex Martinez, who controls the midfield for the RedHawks, and Lucas Bontreger, who plays forward and has earned the GHS career scoring (53) AND assist (26) records.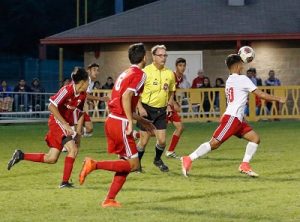 Alex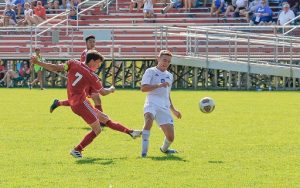 Lucas
The state tournament roster includes: #00 sophomore goalkeeper Nehemias Gallegos, #1 junior goalkeeper Juan Muro Medina, #2 sophomore forward/midfielder Kevin Cruz, #3 junior midfielder Saulo Luna, #4 junior defender Sergio Gonzalez, #5 senior defender Chris Garcia, #6 senior defender Flavio Cruz, #7 senior forward Lucas Bontreger, #8 senior midfielder Sebastian Palacios, #9 senior midfielder/forward Anibal Argueta, #10 senior midfielder Alex Martinez, #11 senior midfielder Diego Loera, #12 junior defender Jaiden Daniels, #13 junior midfielder Efren Ortega, #14 freshman midfielder/forward Fernando Quevedo, #15 senior defender Manuel Castillo, #16 freshman defender Cesar Valdez, #17 junior midfielder/forward Ciro Aguilar, #18 sophomore forward Eduardo Rodriguez, #20 sophomore defender Emylio Romo, #21 senior forward/midfielder Marcos Hernandez, and #23 junior midfielder Ricardo Vargas Ortiz.
Many of the boys have been playing soccer together for a number of years. They started out early on as Goshen Youth Soccer Organization (GYSO) players, under the direction of Coach V's brother, Tavi Mounsithiraj. After that, many of the boys played for the Goshen Stars and other traveling teams under the direction of Myron Bontreger.
The Seniors: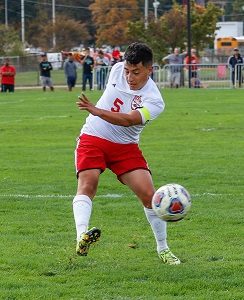 Chris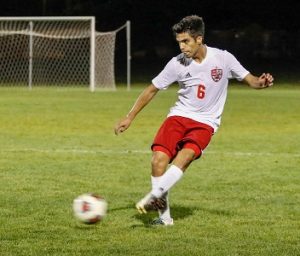 Flavio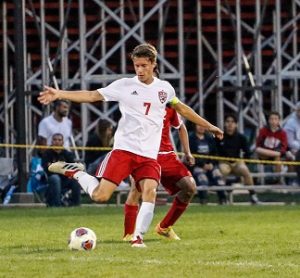 Lucas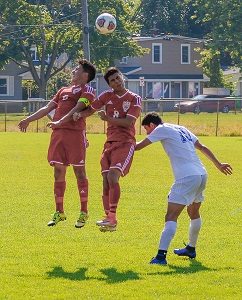 Sebastian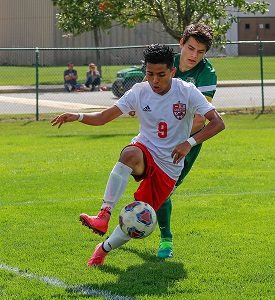 Anibal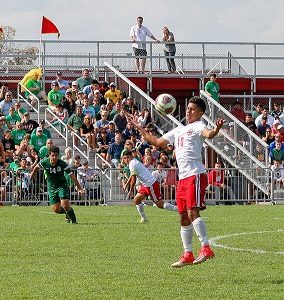 Alex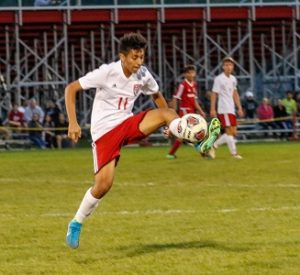 Diego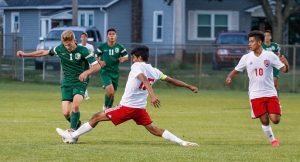 Manny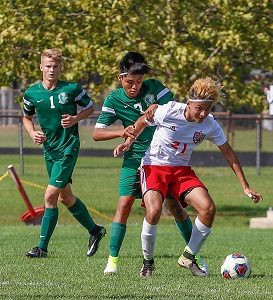 Marcos
They start every game by gathering on the field, taking a knee, collecting themselves, yelling "Puro Goshen" and then getting to work. While this Spanish catch phrase is not easily translated, it roughly means "Pure Goshen", or "Only Goshen", or the "Best of Goshen".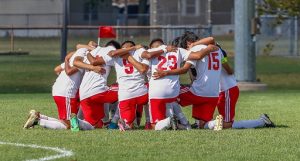 We encourage fans to continue to support the team as they take on Penn in Regional action at Merrillville High School Saturday, October 14th at 10:30 a.m. (EST) Merrillville High School is located at 276 E. 68th Pl. Merrillville, IN 46410. The championship game is set for 7:30 p.m., also at Merrillville on Saturday, Oct. 14th. Other teams in the Merrillville regional are Lake Central and Crown Point.
They have had great fan support all season long, cheering them on in both English and Spanish, let's not stop now!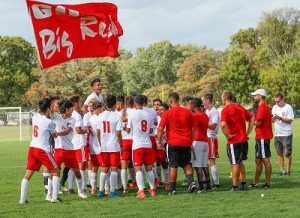 Let's GO BIG RED!!! Puro Goshen!
(Photo credit goes solely to Branden Beachy, with much appreciation!!)