1-22-18 Board Recognition
 January 22, 2018 Board Recognition:
Angie Schmucker, an employee at Prairie View Elementary, was recognized for her selfless act on her way to work one morning. According to Prairie View, "Angie was flagged down on CR 40 on her drive in to work, to help at a house that was on fire. She actually helped to pull the people out of the fire after breaking windows and helping to break down a door. It turned out that it was the grandfather of one of our staff members that Angie rescued! Even though she couldn't see because of all of the smoke, Angie made sure that everyone made it out safely. And she helped keep them warm in her car (including their dog) until the fire fighters arrived, and then was with them at the hospital." Angie was given a standing ovation, and thanked by the whole board for her selfless act, and for demonstrating just how caring GCS employees are throughout the Goshen community.
Also recognized (in absentia) from Prairie View, Angie Bontrager. Angie "saw how disappointed one of our students was after he accidentally threw away a ring that was on his lunch tray. He was very upset. She didn't have to, but Angie dug through three bags of lunch trash until she found the ring to return to the student."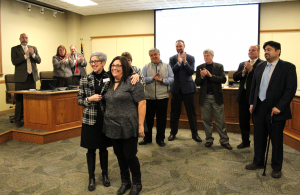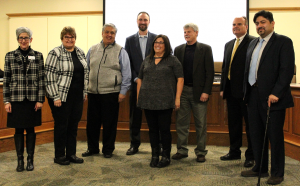 GHS choir teachers Katie O'Leary and Monica Stutzman and GMS accompanist Deanna Chupp were recognized for going "above and beyond" to support the choral program at GMS this past fall. They provided assistance, lesson plans, time, and strong support during the absence of a regular class teacher, and during the transition of a new teacher.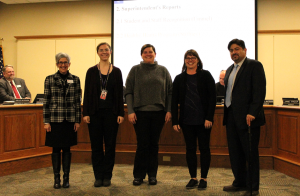 Also recognized by the board were three teachers who have been honored as the Boys and Girls Club Teachers of the Month. The teachers were nominated by GCS students who attend the Boys and Girls Club after school. Carrie Markham from West Goshen was honored in September, Jan Johnson from Chandler was honored in October, and Amber Gensinger from Chamberlain was honored in November.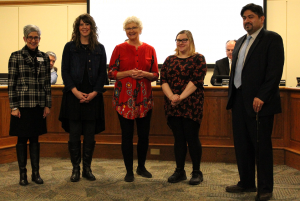 Below, some of Jodi Miller's 5th grade students from Model elementary presented an invitation to the school board and administrators, asking them to attend their New Tech Gala. The Gala will be held on Tuesday, January 30th, from 6:00-7:00 p.m. in the Model cafeteria, where they will showcase their recent project on reducing Goshen's carbon footprint.