Need Help Completing the FAFSA, click link below:
http://www.collegegoalsunday.org/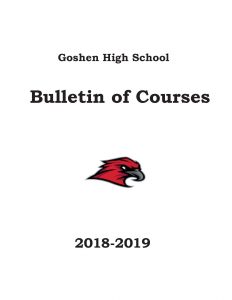 CLICK ON FINANCIAL AIDE TAB TO SEE UPDATED LIST OF COLLEGES ATTENDING THE COLLEGE FAIR ON 10/2/2018, 6:30-8:00 P.M. , GHS
Guidance Events: 2018-2019
October 15      FAFSA  Financial Aid Session – Auditorium 6:00 -8:00 p.m.
October 10        PSAT Testing – Grades 10 and 11
November 3      SAT testing at GHS 7:30 a.m.
February TBD     8th grade Goshen High School Showcase
March 26            Scheduling completed for next school year
March TBA         FAFSA Workshop – Auditorium
May 4                 SAT testing at GHS 7:30 a.m.
May 6-24           AP Testing/ IB Testing
June 6                 Senior Awards Night – auditorium
June 9                 Graduation 2:00 p.m. – main gym
Our mission as school counselors at Goshen High School is to provide a comprehensive counseling program that attends to the personal/social, academic and career preparation/college planning needs of all student. Services include individual counseling, academic support, crisis intervention, career and college planning, and student and family advocacy. Our goal is to promote a commitment to life-long learning, personal, and academic growth and to aid students in becoming responsible, culturally aware, and productive members of society. Our mission and our goal will be supported and further strengthened by consultation with teachers, staff, administrators, parents, and community advocates.
The couselors at Goshen High School believe that:
all students have dignity and worth
all students can achieve and be successful learners
the school counselors' primary purpose is to advocate for the student
school counselors adhere to the Standards for School Counseling Programs in Goshen Community Schools and to the American School Counselor Association's Code of Ethics and Standards of Practice
school counselors should pursue opportunities to develop their professional competencies to ensure the provision of a quality school counseling program
the School Counseling Program is a critical component within the school system and is integral to the academic, personal/social, and career development and progress of each student
the School Counseling Program helps build a positive school environment by encouraging collaboration among counselors, teachers, administrators, parents and the community to further student achievement
the comprehensive School Counseling Program continuously refined and improved through systematic review and evaluation of data