Samantha Stoltzfus & the Philharmonic Orchestra of Indianapolis
The Philharmonic Orchestra of Indianapolis closes its classical season with special guests Sonya Hayes, violin, and Samantha Stoltzfus, winner of the 2017 Indiana Music Association Composition Competition. The concert will be held on Sunday, May 20th at 3:00 p.m. at the Pike Performing Arts Center.
For ticket information, click here: https://www.brownpapertickets.com/event/3066849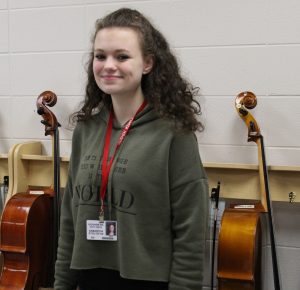 Samantha (Sam) Link Stoltzfus is a 15 year old freshman at Goshen High School in Goshen, Indiana. She is the daughter of Dan and Angela Stoltzfus and has one sister, Josephine Stoltzfus. Her grandparents are Gary and Lorene Link from Morgantown, Indiana & Eldon and Rachel Stoltzfus from Goshen, Indiana.
Samantha has been connected to music her entire life. Her first exposure to reading music began with piano lessons under Angela (Gingerich) Zepeda. She participated in several years of choir through Goshen College's Community School of the Arts. Her formal orchestra training began in 5th grade with the viola. She's currently participating in three groups: Goshen Crimson Orchestra, 2021 String Quartet, and Goshen High School's Jazz Strings. She began private viola instruction two years ago under Benita Barber. Her composition interests began in 7th grade where she was also a category winner.
The Philharmonic Orchestra will perform two musical pieces composed by Samantha Stoltzfus on Sunday. Congratulations, Sam!