May 29th Board Recognition
May 29th Student and Staff Recognition:
GHS Varsity Winter Guard, 2018 IHSCGA Class A State Finalist.
Winter Guard Members include: Makayla Clawson, Sandra Contreras, Karen Esquivel, Maria Flores Mora, Alexandra Garcia, Sophia Gulewicz, Diana Hernandez Gutierrez, Rozalina Kuznetsov, Jala Nolen, Alexa Shull, Hailee Shull, Marie Stanley, Lindsey Taubert, Anna VanderWey, Vanessa Villegas, Abby Weber, and Martha Zamore Munoz.
The guard was represented (below) by Winter Guard Director Takesha Stoll, Alexandria Garcia and Rozalina Kuznetsov.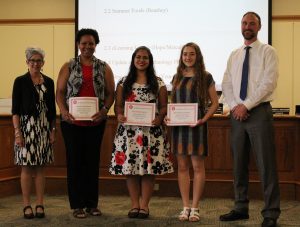 Susan Stiffney, Assistant HR Director & Health Services Coordinator and Sarah Roth, Prairie View Nurse-For being selected as members of the 2018 School Nurse Leadership Academy.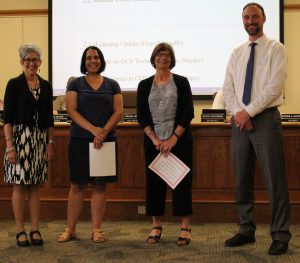 Dr. Woodworth, Sarah Roth, Susan Stiffney, and Bradd Weddell.
Jen Yoder-For her work with the GHS "Daisy Project". Mrs. Yoder explained that she got a call from a local veterinarian asking if GHS would work with a miniature calf (later named Daisy RedHawk by the GHS student body) to engineer something to help with the calf's mobility. Mrs. Cathy DeMeyer's Biology classes also studied the genetics of the calf. Mrs. Yoder said that the calf's farm family has been very supportive of the project, and chose keep the calf and let the students work with her, so that they could learn from the calf. Mrs. Yoder reported that the GHS kids loved "Daisy RedHawk", and came by the window in the Engineering Tech hallway to see her and take pictures of her every day.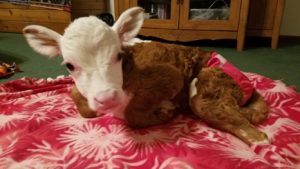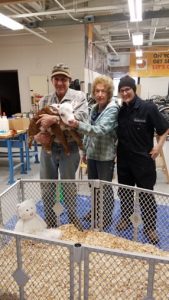 The students started the project with research into the calf's issues, which were explained to them by Dr. Emilie Blough through x-rays, demonstrations, and lectures.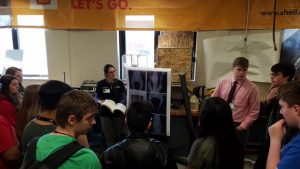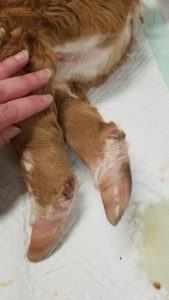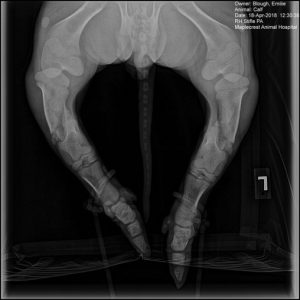 Then the students started brainstorming; one class took on splints, one prosthetics, and one a wheelchair-type apparatus for Daisy's back legs which were bowed, and of different lengths. Mrs. Yoder said that the students have tried at least 20 different prototypes over the course of the project. GHS junior Carter Self devised a splint for Daisy's front legs that is similar to what her final splints (which will be made by an orthopedist) will be, and with those splints, Daisy has been able to run, jump, and play with the Yoder family dog.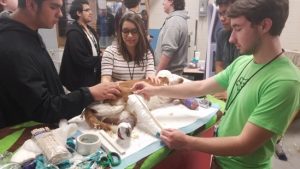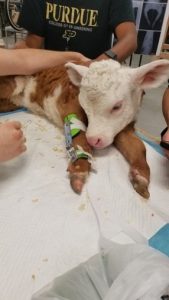 Daisy went with Mrs. Yoder to Chandler, Model, and GMS to talk to the New Tech students about the project, and again, the students loved her!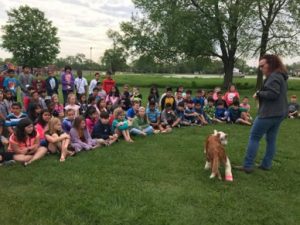 Mrs. Yoder indicated that the most exciting thing about the project happened just that day. She, Dr. Blough, and Carter Self took Daisy to Paws in Motion in Valparaiso, where an orthopedist who works with humans and pets provided a  free 2-hour evaluation. The orthopedist looked at all of the GHS prototypes, and was very impressed with the work that the students had done.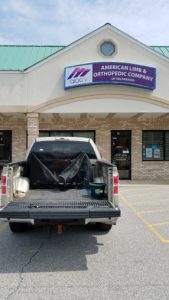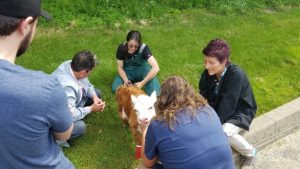 According to Mrs. Yoder, this student response to the project is "what it's all about": From a student, "I think that the most interesting part of this assignment is the fact that we're helping with a real world situation. Most times in class we wonder what's the point of doing all of our assignments? With this project we are applying our knowledge and skills to a real life situation. A situation we have right in front of our faces. We can see how the things we've learned matter."
Thank you to Jen Yoder for taking on this unique project, for revising lessons plans for the last part of the school year, and for allowing GHS students to have this incredible learning experience!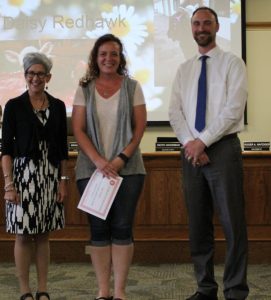 Dr. Woodworth, Jen Yoder, and Bradd Weddell.
Samantha Stoltzfus-The Philharmonic Orchestra of Indianapolis closed its classical season with special guests Sonya Hayes, violin, and GHS student Samantha Stoltzfus, winner of the 2017 Indiana Music Association Composition Competition. The concert was held on Sunday, May 20th at 3:00 p.m. at the Pike Performing Arts Center.
Samantha (Sam) Link Stoltzfus just finished her freshman year at Goshen High School. She is the daughter of Dan and Angela Stoltzfus and has one sister, Josephine Stoltzfus. Her grandparents are Gary and Lorene Link from Morgantown, Indiana & Eldon and Rachel Stoltzfus from Goshen, Indiana.
Samantha has been connected to music her entire life. Her first exposure to reading music began with piano lessons under Angela (Gingerich) Zepeda. She participated in several years of choir through Goshen College's Community School of the Arts. Her formal orchestra training began in 5th grade with the viola. She's currently participating in three groups: Goshen Crimson Orchestra, 2021 String Quartet, and Goshen High School's Jazz Strings. She began private viola instruction two years ago under Benita Barber. Her composition interests began in 7th grade where she was also a category winner.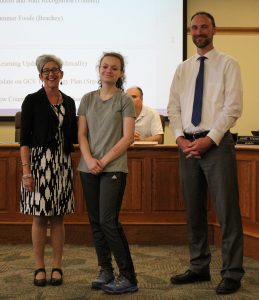 Dr. Woodworth, Samantha Stoltzfus, and Bradd Weddell.