Indiana Teacher of the Year Finalist-Jen Yoder/Finalista de Maestra del Año de Indiana-Jen Yoder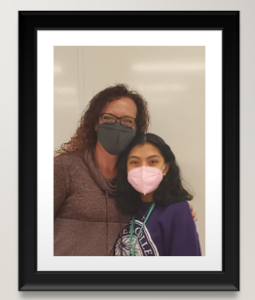 Jen Yoder
GCS is pleased to announce that GHS teacher, Jen Yoder, has been selected as a "Top 25" finalist for Indiana Teacher of the Year! The selection committee will soon determine the Top 10, and if Mrs. Yoder is selected, she will go to Indianapolis to interview with the committee in August. Jen is an excellent choice for this honor, and we are very proud of her selection for the Top 25.
Jen Yoder was hired by GCS in 1998 as a GHS special education teacher. Jen taught special ed for many years before moving to Engineering Technology in 2017. When she taught Special Ed, Jen led several new initiatives for the department: She arranged for the local Special Olympics team to play the girls basketball team during halftime of a boys' basketball game every winter; She developed a G-Signs Print Shop business for her students to run; and she ran a GHS "Spread the Word to End the Word" campaign in 2009, which raised awareness about the hurtfulness of the word "retarded". Jen and students sat at a table during lunch for one week with a large "Spread the Word to End the Word" banner, asking students and staff to sign the banner and pledge to end the use of the "R" word. The banner still hangs in the GHS lobby as a reminder for all.
Since 2017, Jen has taken steps to grow the department by starting a Technology Student Association, by running an @GHSEngineerTech Twitter account, by publishing a monthly STEM newsletter, and by offering a STEM summer camp. In addition to that, Mrs. Yoder has also been a GHS teacher leader as an Instructional Technology Mentor and a Mentor Teacher in the TAP System for Teacher and Student Advancement.
Mrs. Yoder offers yearly projects like the Pumpkin Drop and the Cardboard Boat Race that draw students to her classes. In addition to the favorite yearly design projects, Mrs. Yoder has her students collaborate with the City of Goshen on projects or problems that the city encounters.
As a teacher leader, Jen nurtures and maintains good relationships with her colleagues. She also has good rapport with her students, and she ensures that they are all challenged, regardless of their individual skill level.
GCS would like to wish Mrs. Yoder the best as her name moves forward for Indiana Teacher of the Year. Congratulations, Jen!!
****************************************************************************************************************************
¡GCS se complace en anunciar que la maestra de GHS, Jen Yoder, ha sido seleccionada como finalista "Top 25" para Maestra del año de Indiana! El comité de selección pronto determinará el Top 10, y si la Sra. Yoder es seleccionada, ella irá a Indianápolis para entrevistarse con el comité en agosto. Jen es una excelente elección para este honor y estamos muy orgullosos de su selección para el Top 25.
Jen Yoder fue contratada por GCS en 1998 como maestra de educación especial de GHS. Jen enseñó educación especial durante muchos años antes de mudarse a tecnología de ingeniería en 2017. Cuando enseñó educación especial, Jen dirigió varias iniciativas nuevas para el departamento: organizó que el equipo local de Olimpiadas Especiales jugara contra el equipo de baloncesto femenino durante el medio tiempo de una escuela de niños. juego de baloncesto todos los inviernos; Desarrolló un negocio de Imprenta G-Signs para que lo dirigieran sus estudiantes; y dirigió una campaña de GHS "Difundir la voz para acabar con la palabra" en 2009, que creó conciencia sobre el daño de la palabra "retardado". Jen y los estudiantes se sentaron en una mesa durante el almuerzo durante una semana con una pancarta grande de "Difundir la palabra para terminar la palabra", pidiendo a los estudiantes y al personal que firmen la pancarta y se comprometan a terminar con el uso de la palabra "R". La pancarta todavía cuelga en el vestíbulo de GHS como recordatorio para todos.
Desde 2017, Jen ha tomado medidas para hacer crecer el departamento iniciando una Asociación de Estudiantes de Tecnología, ejecutando una cuenta de Twitter @GHSEngineerTech, publicando un boletín informativo STEM mensual y ofreciendo un campamento de verano STEM. Además de eso, la Sra. Yoder también ha sido maestra líder de GHS como Mentora de Tecnología Educativa y Maestra Mentora en el Sistema TAP para el Avance de Maestros y Estudiantes.
La Sra. Yoder ofrece proyectos anuales como Pumpkin Drop y Cardboard Boat Race que atraen a los estudiantes a sus clases. Además de los proyectos de diseño anuales favoritos, la Sra. Yoder hace que sus estudiantes colaboren con la ciudad de Goshen en proyectos o problemas que la ciudad encuentra.
Como maestra líder, Jen nutre y mantiene buenas relaciones con sus colegas. Ella también tiene una buena relación con sus estudiantes y se asegura de que todos sean desafiados, independientemente de su nivel de habilidad individual.
GCS desea desearle lo mejor a la Sra. Yoder a medida que avanza su nombre para la Maestra del Año de Indiana. ¡¡Felicidades Jen !!