IHSAA Exemplary Sportsmanship Report-Volleyball
An IHSAA Exemplary Sportsmanship Report from Tim Yoder, a line-official at Concord:
Both teams (Concord and Goshen) displayed a level of sportsmanship during this contest. I was a line-official and all the athletes were top-class! I was impressed with the Concord team as they kept battling through the entire game. Goshen kept pushing hard and if a call did not go their way, they showed no emotion, they just huddled up and moved on.
Coach Hale from Concord was very classy.
I was impressed with both Elizabeth and Sophia Kirkton from Goshen High School. They took "coaching" and displayed a humble class.
The entire Concord team kept working hard and Coach Hale kept coaching despite the score – I can say – I never knew the score by looking at the Concord team – they just kept playing and working.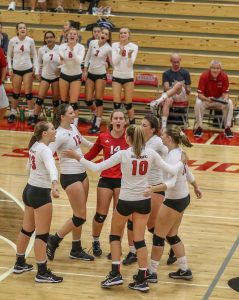 Way to go GHS volleyball and Coach Howard! You've got game, but you've also been recognized for your classy representation of Goshen Community Schools. Well done!