Goshen Redevelopment Commission Provides Grant to GHS
On Friday afternoon, Mayor Jeremy Stutsman presented GCS Superintendent Diane Woodworth a check for $100,000, courtesy of the Goshen Redevelopment Commission.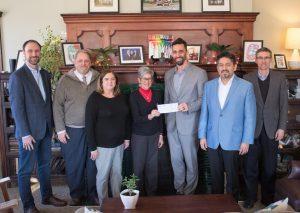 The following statement was taken from a letter by Mayor Stutsman and Community & Redevelopment Director Mark Brinson:
"This grant was approved by the Commission at their meeting on December11, 2018. The purpose of the grant is to support the cost of operating the Advance Manufacturing Academy, a program of Goshen Community Schools. We understand these funds will be used to purchase training equipment which will allow students to train on equipment used by local industry as they work toward certifications in advanced manufacturing."
"The Redevelopment Commission and I appreciate the leadership Goshen Schools Administration and the Goshen School Board have provided in developing this new initiative. The Advanced Manufacturing Academy will not only benefit our world-class manufacturing community, it will provide opportunities for Goshen students to build successful careers right here in their home town."
Thank you, Mayor Stutsman, Mr. Brinson, and the Redevelopment Commission. GCS greatly appreciates your support!!