GHS ANNOUNCEMENTS FOR TUESDAY, FEBRUARY 14, 2017
GHS ANNOUNCEMENTS FOR TUESDAY, FEBRUARY 14, 2017
ANNOUNCEMENTS: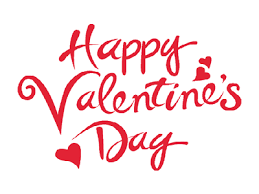 Do you want free candy?  The first 50 people to make a purchase at each lunch on Valentine's Day from the Red Zone will receive a FREE goody bag!
Any GHS student that needs a winter jacket can stop by the administration building.
Universal Tamal is currently hiring part-time waiters/waitresses.  You must be fluent in English and Spanish.  Please apply in person.
Cap & Gown Delivery Day – May 2nd during SRT.
If you missed out on the first IUSB college visit, please join us for another!  On March 2nd we will take students to IUSB to see the campus and learn about their college.  See Ms. Gomez (2370) or Mrs. Stamatovich (JAG) to pick up and return permission slip forms.  This is first come, first serve as space is limited.  Due to ISTEP, sophomores cannot go on this trip.  PERMISSION SLIPS ARE DUE THURSDAY!
IHSAA Student-Athlete Tip of the Week:  Super Bowl 51 was Tom Brady's fifth title.  His leadership and grit helped lead his team back from a 28-3 deficit.  This game will no doubt seal Brady's legacy as the best quarterback to ever play the game.  However, Brady still realizes he is part of the team and not the team.  When asked why there has never been any friction between him and his coach, Brady answers quite simply, "He's the coach, I'm the player."  That simple philosophy is a quality that all athletes should take to heart.  Do you listen to your coach?  Do you let outside influences affect your attitude towards your coach?  If your coach asks you to do something, do you abide?  The most successful teams are those that believe in their coach and the system he/she runs!
Please join us for a college visit to Ivy Tech in Elkhart!  This is first come, first serve as space is limited.  Priority will be given to upperclassman.  See Ms. Gomez (2370) or Mrs. Stamatovich (JAG) to pick up and turn in permission slips.  PERMISSION SLIPS ARE DUE FEBRUARY 24th!
Homework help is available every Tuesday and Thursday in the media center from 3:45-5:00 p.m. starting this week!  A bus will be available around 5:20 p.m. if you need a ride home.  It will pick you up at door M.  This is a great opportunity if you just need a little extra time or even just a quiet place to do your homework at the end of the day.
The Goshen Band Boosters are hosting a shoe drive through April 9th and would love your help! They're collecting gently used or new shoes which are then taken to other countries such as Haiti and given to micro-entrepreneurs.  The entrepreneurs refurbish the shoes into usable ones or other items of use and sell them to earn an income to help themselves and their families.  Take a look in your closets or wherever you may keep your shoes and see if you have a pair or two that you would be willing to donate.  You can even donate flip flops.  Bins will be placed around the school (as well as the Goshen area) that have a poster on them with the dos and don'ts of what is an acceptable shoe.  If you would like more information, or have any questions please feel free to contact Kristy Nissley at nissley1998@gmail.com.  Thank you for your help!
Any girl who is interested in trying out for the GHS softball program needs to complete all athletic paper work before coming to open field workouts.  The open field schedule is posted on the Goshen Softball website.  Tryouts will officially begin on March 6th.  If you have any questions contact Coach Kulp.  We hope to see you there!  Go Hawks!
Seniors: IUSB will be here on THURSDAY from 9:00 a.m.-1:00 p.m. for an onsite admissions visit.  Have your application fee waived, qualify for a $500 scholarship and receive an admissions decision on the spot.  Space is limited.  Sign up in the guidance office ASAP!
Hey Students – want to make up a credit or get ahead by taking an on-line class?  Then Merit on the Move may be for you!  Starting Wednesday and running approximately eleven weeks, you may take an after school class in our Apex Lab in room 1060.  Sessions ONLY meet Wednesdays and Thursdays from 3:45-5:45 p.m., but work/athletic/music conflicts can be worked out.  Only a limited number of spots are available, so please notify your Guidance Counselor ASAP if you are interested.
All freshmen who went on the DC trip last summer should stop the main office this week to pick up your group photo from the trip.
Super Mileage will meet at 7:00 a.m. and 3:40 p.m. on the following dates:  February 14th, 21st and 28th.
Seniors:  If you still need to order a cap and gown you can visit their web site at www.highschool.herffjones.com to place an order.
Football off-season workouts are under way!  If you are planning on playing football in the fall and are not in a winter sport, you are expected to be there.  We will be done before 5:00 p.m.  Now is the time when you make your biggest gains.  Brick by Brick!
Mondays: 3:55-4:55 p.m.            Weight Room
Tuesdays:  3:55-4:50 p.m.          PIYO (Warehouse)
Thursdays:  3:55-4:50 p.m.         Agility/Footwork Quickness (Warehouse)
| | | | |
| --- | --- | --- | --- |
| Date | Time | Boys Basketball Game | Theme |
| 21-Feb | 7:30 | vs. West Noble | Black Out (Senior) |
| 24-Feb | 7:45 | vs. Manchester | 80's |
Please stop by the commons area (either by the cafeteria or outside the main office) during lunch if you are interested is speaking to the following:
3/8      Army
3/13    Conrad Grebel University
3/15    Aces Exchange Student Program
MEETINGS DURING SRT:
There will be a callout meeting TODAY for Unified Track & Field in the main gym.
If you are a junior or senior who is interested in helping with Prom there will be a meeting TODAY during the 2nd session of SRT in room 8080.
There will be a football call out meeting for any boy wanting to play football next year on Tuesday, February 28th during the 2nd session of SRT in the main gym.  Please plan to attend as we will be discussing our Lift-a-Thon and other items.  Please contact Coach Park if you won't be able to attend.
SPORTS SCORES:
IN SPORTS ACTION TODAY:
(No events scheduled)