GHS Announcements for September 16th , 2021
Monday
Tuesday
Wednesday
Thursday
Friday
2nd
8:25-9:56
1st
8:25-9:56
1st
9:05-9:52
2nd
8:25-9:56
1st
8:25-9:56
SRT check-in
10:03-10:13
3rd
10:03-11:46
2nd
9:57-10:44
SRT check-in
10:03-10:13
3rd
10:03-11:46
SRT Session 1
10:18-11:00
Check Email/GTV
11:36-11:46
3rd
10:49-11:36
SRT Session 1
10:18-11:00
Check Email/GTV
11:36-11:46
SRT Session 2
11:05-11:46
5th
11:53-1:57
4th
11:41-12:59
SRT Session 2
11:05-11:46
5th
11:53-1:57
4th
11:53-1:57
A-lunch
11:53-12:23
A-lunch
11:41-12:11
4th
11:53-1:57
A-lunch
11:53-12:23
A-lunch
11:53-12:23
B-lunch
12:23-12:53
B-lunch
11:57-12:27
A-lunch
11:53-12:23
B-lunch
12:23-12:53
B-lunch
12:23-12:53
C-lunch
12:53-1:23
C-lunch
12:13-12:43
B-lunch
12:23-12:53
C-lunch
12:53-1:23
C-lunch
12:53-1:23
D-lunch
1:23-1:57
D-lunch
12:29-12:59
C-lunch
12:53-1:23
D-lunch
1:23-1:57
D-lunch
1:23-1:57
7th
2:04-3:35
5th
1:04-1:51
D-lunch
1:23-1:57
7th
2:04-3:35
6th
2:04-3:35
6th
1:56-2:43
6th
2:04-3:35
7th
2:48-3:35
SPORTS NEWS:
On Monday, 9/27, Coach Sloan will hold a meeting on the upper deck of the main gym during 2nd session of SRT for any girl or guy interested in basketball sideline cheerleading or GMEN. Please come by to learn more about the cheer team at GHS.
This Friday night the football team hosts the Concord Minutemen for JERSEY NIGHT night at 7 PM.  Please dress to the theme and show up to get very loud to help the football team knock off our rivals from Concord.   Bill's Heating in Goshen is paying the admission fee for all GHS students.  All you need to do is remember your current year school ID and show it at the ticket gate.  You do not even need to wait in line!  Walk up the right side of the ticket area and just show Mrs. Schrock or Mrs. Worthman your current school year ID and have a blast!
The GHS Frisbee club is meeting every weather permitting Tuesday and Thursday after school until 5pm. If you are interested in joining, forms are located outside the athletic office. If you have any questions, please email Lucas Kauffman at lmkauffman@goshenschools.org 
Swim & Dive Pre-Season practices will be on Tuesday's and Thursday's from 4 – 6 PM at the GCS Aquatic Center starting next Tuesday (September 14) and going through October 14. Anyone interested in being on the Swim & Dive team is welcome to come, but must have athletic paperwork completed and on file with the Athletic Department.
We will have conditioning opportunities for those not in a fall sport and interested in participating in track and field. The opportunities will be held Tuesday and Thursday form 4-5:30pm. We will meet in the weight room Sept 14,2021. If interested you will need documentation on file in the athletics office. Contact Coach Leek (kleek@goshenschools.org) or Nathan Swihart (nswihart@goshenschools.org) for more info.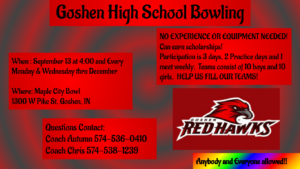 CLUB MEETINGS: 
The Youth Caucus Club invites you to the Hispanic Heritage Festival in downtown Goshen Friday, September 17th, from 4-10pm. There will be a Mariachi and Los Ortegas will be playing as well. If you are wanting to help and volunteer contact your fellow classmate Adrian Mora for more information moraa1@students.goshenschools.org
Anyone interested in joining the Multicultural Youth Alliance Club (MYA), we will have our call out meeting this Thursday, September 16th 2nd session of SRT in Whiteman Gym. This is a great opportunity to meet and make new friends. If you are unable to attend this meeting, but interested in the club, pick up a membership form outside of Ms. Tovar's office. We can't wait to meet you!
Te interesaría ser parte del club Alianza multicultural juvenil (MYA)? No faltes a nuestra primera junta este jueves, 16 de septiembre en la 2ª sesión de SRT en el gimnasio Whiteman Gym. Esta es una gran oportunidad de hacer nuevas amistades. Si no puedes asistir, pero estas interesado en participar, busca la hoja de membresía en la oficina de Ms. Tovar. Queremos conocerte!
Goshen Rotary invites you to join them in their 24 hour Freedom Walk starting at 8a.m. on Saturday, September 18th right here on our high school track.  They are raising awareness and funds for Destiny Rescue, an international organization that rescues children out of human trafficking situations around the world.  Simply Google Destiny Rescue Freedom Walk to learn more.  Enter as individuals or as a team.
VOICE Youth Tobacco Prevention:
WHO WE ARE
Statewide youth empowerment program that engages, educates, and empowers young leaders, ages 13-18, to live tobacco-free.
WHAT WE DO
Service projects, peer education, advocacy, and leadership experiences that fight against deceptive tobacco marketing techniques targeting youth and minority groups.
If interested in joining: There is a call-out meeting scheduled at 4:30pm on September 20,2021 at the Goshen Public library in Meeting Room A/B. or email ElkVOICE574@gmail.com
MUSIC NEWS: 
Congratulations to the members of the Crimson Marching Band for hosting the 29th annual marching band invitational.  Although we do give ourselves trophies the Crimson Marching Band placed 1st from the 20 bands in attendance.
This coming Saturday they will compete at the Concord Marching Band Invitational.  They step off at 8:20 p.m.
      If you would like to purchase tickets they are on sale in the band office.  The price is $7.00.              Make checks payable to the Goshen Band Boosters or bring cash.
GENERAL SCHOOL INFO:
What:

Merit on the move is a chance for students to earn a credit through Apex for a variety of reasons including re-taking a class to get a better grade, having failed the class previously or even trying to get a credit or two ahead of schedule. Priority is given to students taking classes required to earn diplomas.

Classes started in Merit on the Move must be finished by December 16th. Students who do not finish will be required to start over school year or take the course in a traditional classroom.
      Who: Merit on the move is open to any sophomore, junior or senior; however, priority will be         given to upperclassmen. There is a maximum of 30 students per session, so seating is                       limited. If you have seniors in your SRT or classes that are a credit or two short of graduating,          this is  the best way to get what they need!
       Where: Merit on the move takes place on Tuesday and Thursday afternoons from 3:45-5:45           PM in the Apex lab (room 2805 and 2810 aka the old weight room). 
       When: Classes start September 28th and run through December 16th. We will not be                meeting the week of fall break. Attendance is taken and students with poor attendance will            not earn credits. Special arrangements can/have been made to compensate for work and               athletic/extra-curricular schedules, but again, good attendance is necessary to earn a credit.           Students who do not show up the first week and do not communicate with Mr. Wolf or Mrs.           Miller ahead of time, will be removed and replaced with a student on the waitlist. 
      How: If you would like to sign up a student, or know one that would be interested in signing            up contact Mr. Wolf (pwolf@goshenschools.org), Mrs. Miller (almiller@goshenschools.org) or          the student's guidance counselor to get them enrolled ASAP.
Picture retake day will be held the morning of Friday, September 17th! Any student who has not taken a picture yet, or would like to retake their original is welcome to participate. If you are retaking a picture, please bring your original picture packet back with you on that day! Retakes can be ordered online at mylifetouch.com with the Picture Day ID:EVT2HDB9J.
The After Hours homework help has begun.  After school on Tuesday and Thursdays from 3:45-4:50 in the Cafeteria. Bussing will be available!
 
If you stay after school for the after school snacks they MUST be eaten in the cafeteria. They cannot leave the room.
If you are driving and parking in the school parking lot you need to see the bookkeeper in the main office to purchase a parking permit. In order to get one you will need to bring in proof of insurance, license and registration, and $5.00.
IN SPORTS ACTION TODAY:
The Freshman girls volleyball team will play against Northridge and Penn HS at Northridge starting at 5:00pm
The JV and Varsity girls soccer teams will play NorthWood HS at Home. JV starts at 5:00pm and Varsity starts at 6:45pm
The JV and Varsity girls volleyball team will play against Northridge at Home. JV starts at 5:30pm and Varsity starts at 7:00pm
The JV and Varsity boys soccer teams will be playing NorthWood HS at NorthWood. JV starts at 5:30pm and Varsity starts at 7:15pm
The JV and Varsity boys tennis teams will play Plymouth HS at Home starting at 5:30pm
SPORTS RESULTS:
The RedHawks responded with a 4-1 victory over Concord Wednesday night. Moses Sawatzky, Isaac Stahly, Moses Kratzer, and Myles Mclaughlin all won in straight sets, while Pi Wellington bounced back from losing the first set to win the next 2. The team is now 11-4 overall and 5-0 in conference. The JV won their match 5-2 for their 9th win of the season. Blaine Miller improved to 15-0 for the year. The team is back in action Thursday against Plymouth on Senior Night.