GHS Announcements for Monday, September 20, 2021
Monday
Tuesday
Wednesday
Thursday
Friday
2nd
8:25-9:56
1st
8:25-9:56
1st
9:05-9:52
2nd
8:25-9:56
1st
8:25-9:56
SRT check-in
10:03-10:13
3rd
10:03-11:46
2nd
9:57-10:44
SRT check-in
10:03-10:13
3rd
10:03-11:46
SRT Session 1
10:18-11:00
Check Email/GTV
11:36-11:46
3rd
10:49-11:36
SRT Session 1
10:18-11:00
Check Email/GTV
11:36-11:46
SRT Session 2
11:05-11:46
5th
11:53-1:57
4th
11:41-12:59
SRT Session 2
11:05-11:46
5th
11:53-1:57
4th
11:53-1:57
A-lunch
11:53-12:23
A-lunch
11:41-12:11
4th
11:53-1:57
A-lunch
11:53-12:23
A-lunch
11:53-12:23
B-lunch
12:23-12:53
B-lunch
11:57-12:27
A-lunch
11:53-12:23
B-lunch
12:23-12:53
B-lunch
12:23-12:53
C-lunch
12:53-1:23
C-lunch
12:13-12:43
B-lunch
12:23-12:53
C-lunch
12:53-1:23
C-lunch
12:53-1:23
D-lunch
1:23-1:57
D-lunch
12:29-12:59
C-lunch
12:53-1:23
D-lunch
1:23-1:57
D-lunch
1:23-1:57
7th
2:04-3:35
5th
1:04-1:51
D-lunch
1:23-1:57
7th
2:04-3:35
6th
2:04-3:35
6th
1:56-2:43
6th
2:04-3:35
7th
2:48-3:35
SPORTS NEWS:
On Monday, 9/27, Coach Sloan will hold a meeting on the upper deck of the main gym during 2nd session of SRT for any girl or guy interested in basketball sideline cheerleading or GMEN. Please come by to learn more about the cheer team at GHS.
The GHS Frisbee club is meeting every weather permitting Tuesday and Thursday after school until 5pm. If you are interested in joining, forms are located outside the athletic office. If you have any questions, please email Lucas Kauffman at lmkauffman@goshenschools.org 
Swim & Dive Pre-Season practices will be on Tuesday's and Thursday's from 4 – 6 PM at the GCS Aquatic Center starting next Tuesday (September 14) and going through October 14. Anyone interested in being on the Swim & Dive team is welcome to come, but must have athletic paperwork completed and on file with the Athletic Department.
We will have conditioning opportunities for those not in a fall sport and interested in participating in track and field. The opportunities will be held Tuesday and Thursday form 4-5:30pm. We will meet in the weight room Sept 14,2021. If interested you will need documentation on file in the athletics office. Contact Coach Leek (kleek@goshenschools.org) or Nathan Swihart (nswihart@goshenschools.org) for more info.
This Friday's home football game is at 7 PM when we host Warsaw.  A big thank you to L & M Electric for sponsoring free attendance for GHS students this Friday.  You must show your current year school ID to gain free admission. 
Homecoming Week is 10/11 – 10/15 and will culminate Friday night with the home football game against Wawasee.  That game will be free for all GHS students who show their ID and is being sponsored by Interra!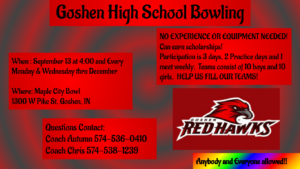 CLUB MEETINGS: 
VOICE Youth Tobacco Prevention:
WHO WE ARE
Statewide youth empowerment program that engages, educates, and empowers young leaders, ages 13-18, to live tobacco-free.
WHAT WE DO
Service projects, peer education, advocacy, and leadership experiences that fight against deceptive tobacco marketing techniques targeting youth and minority groups.
If interested in joining: There is a call-out meeting scheduled at 4:30pm on September 20,2021 at the Goshen Public library in Meeting Room A/B. or email ElkVOICE574@gmail.com
MUSIC NEWS: 
Congratulations to all of the members of the Crimson Marching Band for an outstanding performance at the Concord Invitational this past Saturday.  The marching band won awards for best music, best visual and best general effect and placed 1st in class A and was the overall grand champion of the 19 bands at the event.
This coming weekend they will be the Penn invitational.
GENERAL SCHOOL INFO:
What:

Merit on the move is a chance for students to earn a credit through Apex for a variety of reasons including re-taking a class to get a better grade, having failed the class previously or even trying to get a credit or two ahead of schedule. Priority is given to students taking classes required to earn diplomas.

Classes started in Merit on the Move must be finished by December 16th. Students who do not finish will be required to start over school year or take the course in a traditional classroom.
      Who: Merit on the move is open to any sophomore, junior or senior; however, priority will be         given to upperclassmen. There is a maximum of 30 students per session, so seating is                       limited. If you have seniors in your SRT or classes that are a credit or two short of graduating,          this is  the best way to get what they need!
       Where: Merit on the move takes place on Tuesday and Thursday afternoons from 3:45-5:45           PM in the Apex lab (room 2805 and 2810 aka the old weight room). 
       When: Classes start September 28th and run through December 16th. We will not be                meeting the week of fall break. Attendance is taken and students with poor attendance will            not earn credits. Special arrangements can/have been made to compensate for work and               athletic/extra-curricular schedules, but again, good attendance is necessary to earn a credit.           Students who do not show up the first week and do not communicate with Mr. Wolf or Mrs.           Miller ahead of time, will be removed and replaced with a student on the waitlist. 
      How: If you would like to sign up a student, or know one that would be interested in signing            up contact Mr. Wolf (pwolf@goshenschools.org), Mrs. Miller (almiller@goshenschools.org) or          the student's guidance counselor to get them enrolled ASAP.
The After Hours homework help has begun.  After school on Tuesday and Thursdays from 3:45-4:50 in the Cafeteria. Bussing will be available!
 
If you stay after school for the after school snacks they MUST be eaten in the cafeteria. They cannot leave the room.
IN SPORTS ACTION TODAY:
The JV and Varsity boys tennis teams will play Mishawaka HS at Baker Park starting at 5:00pm
The JV girls soccer team will play Penn HS at Penn starting at 5:30pm
The C-team boys soccer team will play again Elkhart HS at home starting at 6:00pm
The Unified Football team will play Warsaw HS at Warsaw starting at 6:30pm
SPORTS RESULTS:
Friday night the Goshen RedHawks took on the Concord Minutemen at Goshen High School. The RedHawks fought back late but fell short to the Minutemen 21-12.Leading the offense for the RedHawks was Brayden Hinkel. He had 2 receiving touchdowns. He also had 121 yards receiving. Quinn Bechtel had 158 yards passing with two passing touchdowns.

Leading the defensive effort for the RedHawks was Mitch Daniels. He had 8 tackles, five being for loss of yardage and two sacks on the quarterback. Roman Schrock. had 8 tackles, 2 tackles for loss, and two sacks on the quarterback. Blake Wyman had 17 tackles and one tackle for loss.

The Goshen RedHawks (2-3, 0-3 in the NLC) are back in action next Friday night at Goshen High School against the Warsaw Tigers
What a day at Cobblestone for the RedHawks sectional round!!! Four personal bests were had by Goshen, securing the third place spot and an advancement onto regionals. After a 19 year hiatus for advancing as a team, the RedHawks shot lights out with a team score of 368, beating Fairfield by 6 strokes to go on. Briza Tayagua-Delgado led the team with a personal best of 85. Maya Narayan was next with a 92. Senior, Sarah Kim, shot lights out for her final sectional of her high school career and a career best of 94. Kiley Wise shot a personal best of 97 with her sectional debut this year. Freshman Sophia Garber decided to go big or go home and shot a personal best of 104. We are so proud of you ladies and could not be any happier to be on this ride to regionals with you. Come see us at NobleHawk this upcoming Friday!!
The RedHawks swept Hanover Central 5-0 after Aidan Ebright Zehr & Kaden Priebe clinched the super tiebreaker by a score of 14-12. The team then defeated LaPorte 4-1 in the championship, behind victories from Moses Sawatzky, Isaac Stahly, Carter Schmucker, Joel Byler, Moses Kratzer, and Myles Mclaughlin. Moses Kratzer improved to 15-0 this season, while the team is now 14-4.
The JV boys tennis team repeated as NLC champions for the 2nd year in a row, finishing first in the Wawasee Invite. They were also champions at each individual position, leaving the team outcome in no doubt. Kyan Miller at #1 Singles, Evan Hochstedler at #2 Singles, Lincoln Fisher at #3 Singles, Braxten Sheets & Blaine Miller at #1 Doubles, and Anton Alstrom and Erich Schramm at #2 Doubles all brought home 1st place ribbons. The JV season wraps up on Monday at Mishawaka, looking to notch their 11th win compared with only 1 loss.
The Goshen Girls Varsity Soccer team defeated Bethany Christian 4-0 at Goshen College. Scoring goals for the RedHawks were Miriam Ruiz Sanchez with 2 and Alessandra Lozano and Natalie May with one each. Natalie May added two assists and Alessandra Lozano one.
Abril Diaz and Meggy VanHooser combined for the shutout. The RedHawks are now 8-4 overall and 5-1 in the NLC. The team plays again next Saturday at home on Senior day at 4 pm against South Bend Adams
Highland wins Goshen Volleyball Invitational.Goshen 25,25 Highland 25,25 Goshen 26,15,15
Lakeland 16,22 S B Adams 20,15 Lowell 24,25,13

Lakeland 25,13,11 Lowell 17,12 Lakeland 25,17,15
Highland 20,25,15 Highland 25,25 S B Adams 18,25,7

Highland 25,25 SB Adams 22,24 SB Adams 25,25 Lowell 21,26,15
Goshen 16,9 Lowell 25,26 Goshen 18,12 Lakeland 25,24,12
The Boys cross country team placed 2nd to Ft, Wayne Concordia by 4 points.
Drew Hogan was the individual winner followed by Cole Johnston 2nd, Tommy Claxton was 7th, Luis Loera 23rd, Adrian Mora 35th, Tyler Wiese 43rd and Oliver Beik 80th.The JV Boys placed 4th. They were led by Brady Abney 4th, David Dominguez 15, Bryan Sixtos 23rd, Angel Hernandez 30th, Michael Smith 34th, Peter Moser 48th, and Todd Kauffman 67th
The Girls placed 13th at West Noble.
Nataly Esqueda led the team placing 21st followed by Mara Schrock 88th, Micaela Corbin 99th, Marisol Diaz 107th, Sophia Yordy 114, Carly Yoder 124th, and Nadia Romero 130th