Coral Reef Art Show-GHS teacher Cindy Cooper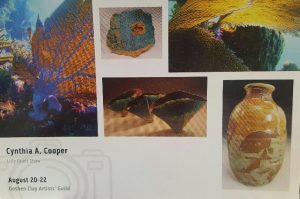 Dive in to Help the Coral Reef Change Through Art. GHS art teacher, Cindy Cooper, will host an art show featuring clay works and photography at 212 W. Washington St. Goshen on Aug. 20 6-8 p.m. and Aug. 21 1-3 p.m. And, on Aug. 22 7-8 p.m. she will host an Artist Talk. If you wish to attend the Artist Talk, please RSVP by texting Artist Talk to 574-361-0833 with the name & number of people attending.
For an article from the Elkhart Truth about the show and the artist, click on the link below.
http://www.elkharttruth.com/news/goshen-teacher-presents-art-show-to-raise-awareness-about-coral/article_b0801387-5b7c-554c-a323-21744e7488fa.html?utm_medium=social&utm_source=facebook&utm_campaign=user-share